Dr. Helena Wenninger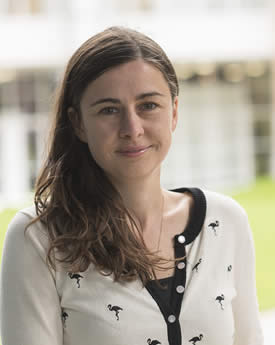 "Networking of Women in Computing" with Dr. Helena Wenninger (Lancaster University)
S3|20 KOM-Lounge / Terrasse (room 111), Rundeturmstr. 10, 64283 Darmstadt
9:30 – 11:00 am Networking for Women
11.00 – 12:00 am Presentation for all
Title:
The Dark and Bright Sides of Information and Communication Technology: Effects on Organizations and Society
Abstract:
Recent years have witnessed a mounting integration of information and communication technology (ICT) in all areas of our lives, transforming the way we work, play, socialize, and live together. This presentation highlights some favorable as well as unintended, and often non-beneficial consequences of the use of ICT on people in society and on employees in organizations.
For the first aspect, the impact of social networking sites (SNSs) like Facebook on individuals in the non-organizational context and underlying processes on the well-being and relationships of users are discussed. By possessing distinct affordances, different SNS activities are likely to produce a differential effect. SNSs are an environment characterized through high transparency of social contacts and information that may promote a variety of unflattering upward comparisons that have the potential to produce negative effects such as SNS envy. On the positive side, targeted reciprocity-evoking forms of SNS activities like chatting, "liking" and receiving feedback seem to be well suited to promote users' positive emotions.
For the second aspect, the effect of organizational ICT on the well-being of employees in organizations, through phenomenon such as e-mail induced stress is discussed. The impact of these effects on employee productivity, and job satisfaction is investigated and what organizations and employees can do to mitigate such effects.
Bio:
Helena Wenninger is a Lecturer (Assistant Professor) in Information Systems at the Department of Management Science at the Lancaster University Management School. Her research interests cover patterns of social media usage and online communication as well as their consequences for individuals, providers and society. Her work has been published in peer-reviewed outlets like Information Systems Research (ISR) and in conference proceedings like the European Conference on Information Systems (ECIS).
She received her PhD in Information Systems from the Technical University Darmstadt, Germany. During her time as a doctoral candidate, she was a visiting researcher in the Department of Finance and Decision Sciences at Hong Kong Baptist University, Hong Kong. She has a multidisciplinary background and holds a master's degree in psychology from Utrecht University in the Netherlands and a degree from the German University of Administrative Sciences Speyer, Germany with focus on higher education and research management.