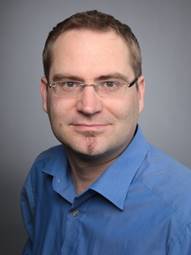 Nokia Bell Labs
Titel:
5G Radio Access and Beyond
Abstract:
The fifth generation of wireless cellular communication systems (5G) is about enabling flexible multi-service support in a configurable and forward-compatible manner. This talk will discuss design paradigms, key use cases and key 5G air interface technologies for the physical (PHY) and medium access control (MAC) layer. The 5G technologies will be discussed from a research perspective, ranging from solutions which are close to product realization up to topics which still pose a long-term challenge for the evolution of 5G and beyond.
Bio:
Thorsten Wild received his Dipl.-Ing. degree in Electrical Engineering and Information Technology from the University of Karlsruhe in 2001 and his Dr.-Ing. (PhD) degree in Electrical Engineering and Information Technology from University of Stuttgart in 2016. In 2001 he joined Alcatel as a research engineer, became part of Bell Labs in 2006 and part of Nokia Bell Labs in 2016. In 2017 he became department head of the Next Generation Wireless Systems team. He has authored and co-authored more than 50 conference papers and more than 20 3GPP NR and LTE standardization technical documents, and holds more than 50 filed and granted patents in communications. He was nominated for the Bell Labs Inventors Award in 2011 and has been the technical manager of the European 5GNOW research project. Thorsten Wild's background is in signal processing, multi-antenna communication and physical layer design. He has been working on UMTS, LTE, LTE-A, multi-user MIMO, coordinated multi-point, channel estimation, limited feedback, 5G waveforms and 5G air interface design.