Prof. Dr.-Ing. Jörg Ott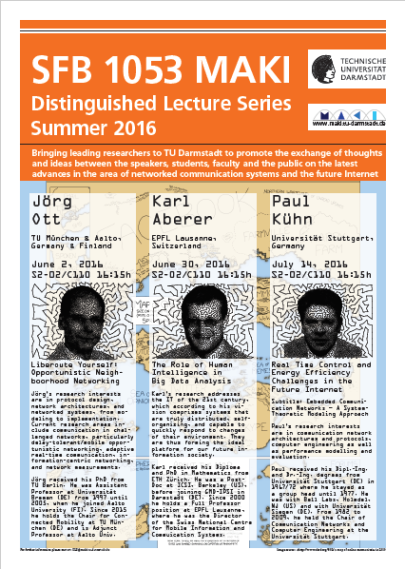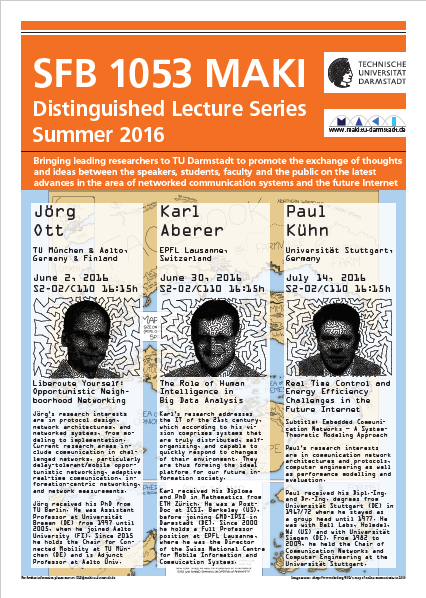 TU München & Aalto University,
Germany & Finland
- 2 June 2016, 04:15 pm -
Postponed to:
February 2, 2017, 04:15 pm
"Liberoute Yourself: Opportunistic Neighborhood Networking"
Abstract:
It has become a habit to rely on virtually always accessible cloud services to store, shared, and process data: it just works, it convenient, and it's free. Behind the scenes, we find overhead, hidden cost, and potential privacy issues. In this talk, we'll explore localizing networks and services as an alternative in order to keep content and responsibility close(r) to the users.
Short Bio:
Jörg's research interests are in network architecture, protocol design, and networked systems. One focus is on decentralized and mobile opportunistic networking and services and how to support an affordable Internet for all, where he explores application design principles and user interactions paradigms for less well connected environments.

Jörg received his diploma and his PhD in Computer Science from TU Berlin and his diploma in industrial engineering from TFH Berlin. He currently holds the Chair of Connected Mobility at TUM and is Adjunct Professor for Networking Technology at Aalto University.